This week, pictures posted on two Instagram accounts have reportedly seen Princess Shah Latifah, the daughter of the Shah of Dubai. For the past several months, Princess Latifah has neither been seen nor got any information about her.
In February this year, BBC Panorama aired a video of Princess Latifah, in which she said that she has been held hostage and is in danger of her life. He made this video covertly.
The BBC does not confirm the veracity of the picture posted on social media this week, and the BBC has not received any further information about it.
But a friend of Princess Latifa has confirmed that the lady seen in the picture is Princess Latifah.
The BBC believes that this picture of Princess Latifah is not accidental or accidental, but it is related to unknown incidents.
David Hague, the co-founder of the Free Latifah Campaign, has issued a statement saying, "We can confirm that there have been many positive and significant advances in this campaign. Right now we do not want to comment on this issue but when the appropriate time comes, we Will issue a statement. "
The BBC tried to contact the Saudi Arab Emirates embassy in London but had not received any response until the news was written.
The United Nations has refused to comment on the latest picture, saying it is waiting for "concrete evidence to support Princess Latifa's survival". The United Nations says that the Saudi Arab Emirates has promised to give him information in this regard.
What did the picture show?
In this picture, Princess Latifa can be seen sitting with two other women in a shopping mall in Dubai (Mall of Emirates, MOE).
Princess Latifa's friends told the BBC that she knew both the women seen in the picture and that Princess Latifah also knew her.
This picture was uploaded to Instagram, due to which the metadata cannot be removed. The correct time and date of taking a picture can also be found from the metadata as well as its correct location.
This photo has been reversed (reversed). Back in the picture is an advertisement for a film called "Demon Slayer: Mugen Train". The film was released in Dubai on May 13 this year.
This picture was uploaded on the Instagram account of both the women sitting with Princess Latifa in the picture on Thursday this week. One of them wrote with the picture, "A beautiful evening at the Mall MOE with friends."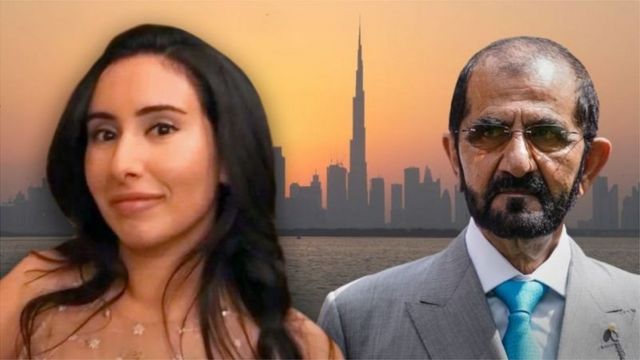 The BBC tried to contact the two women for further information about Princess Latifa's health and photos, but both have not given any reply to the BBC.
Kenneth Ross of the Human Rights Watch Advocacy Group told the BBC, "Even if we assume that the picture is real, it gives evidence that the princess Latifah is alive but that she is being held hostage or freed No information about it is available. "
The royal family has also not commented on this picture so far. In February this year, the BBC was told that "Princess Latifa is at home and is being looked after".
The UAE had issued a statement saying, "Her health is being taken care of and it is expected that she will soon return to her public life". 
What happened to Princesse Latifah?
Princess Latifah is one of the 25 children of the ruler of Dubai, Sheikh Muhammad bin Rashid Al Maktoum. In February 2018, Latifa tried to flee the country, but was caught in India's sea border.
Just before the escape, Latifah had recorded a video in which he said, "I am not allowed to drive. I am not allowed to travel or leave Dubai."
He had said, "I have not been out of the country since 2000. I just keep asking for permission to travel, study or do anything normal. But, they have been dismissed. I want to leave."
After this incident, Princess Latifa's father said that this campaign was no less than a "rescue operation" for her.
After this, in February 2021, BBC Panorama aired videos of Princess Latifa in secret. In these videos, Latifa said that she has been incarcerated since she returned to Dubai.
He had said that he has been kept alone in a palace without a window amid tight police security, the doors of which remain closed. Here they are not getting medical facilities nor legal facilities.